First of all, on a completely unrelated note (for those of you who don't follow me on the Twitter or the Instagram), I have to share the latest adventure in puppydom.
This,
did this:
Granted, it's a spot under the bed, so we can't even see it. And the carpet was only going to be with us for another month or two anyway, as our bedroom is getting hardwood floors soon. *happy dance!* But still. The little shit chewed not one, but TWO holes in the carpet.
Oh, wait, it gets better. Being the genius (with impeccable timing) that he is, Mr. B had the nerve to suggest – again – that we need another puppy. A third dog. Because the puppy stage is just sooooo much fun, and "we've gotten really lucky with Joey. He doesn't destroy stuff." Sure honey, we will pretend that the bar stool legs, dining room table legs, and coffee table legs don't all have Joey's teeth marks on them, and we'll just let that little mishap with the carpet go unnoticed. (!!) (And as my mother later pointed out, "if we are keeping count, don't forget about that baseboard he ripped off the wall." Thanks, Ma, almost forgot about that one.)
For those of you who are just tuning in, I'm the one who is home all day, so the puppy-rearing responsibilities fall to me. Clearly, I'm doing a bang-up job. As such, I also get puppy-acquisition veto power, so I shut that ish down right away. Sorry, darling, we're at capacity.
Moving on…
What I really wanted to talk about is something that it making me oh-so-happy right now. The lovely Kate over at Another Clean Slate told me about this great link-up, Pay It Forward. Basically, the idea is to reach out to other bloggers with whom you don't already have much contact (yet!), and do something nice for them. How cool is that? I LOVE this idea, so I rushed right over to Be So Happy to learn more about Stephanie and her fabulous little plan.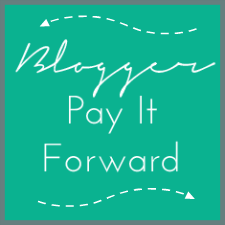 I love Stephanie's whole approach to life; she's all about finding happiness in the little things in life and spreading the good. I'm so excited to be part of this link-up – I absolutely love the idea of spreading the happy, making new friends, and making someone else's day a little bit brighter! Join us, won't you?