A few weeks ago, I got an email from the adorable Kate over at Another Clean Slate. She told me she was participating in the Pay It Forward link-up that Stephanie was hosting over at Be So Happy. The idea of the project is to do something nice for a few  bloggers that you aren't already friends with – yet. She was emailing to ask for my address because she wanted to send me something.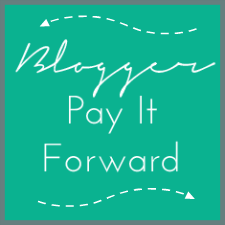 I was so surprised and touched! You know the saying, "it's the thought that counts"? SO true. Her email alone made my day. Knowing that a fellow blogger thought of me and wanted to do something nice for me made my heart so happy. And then I got her sweet package in the mail:
This cute little journal is filled with 365 simple, easy ideas for putting a little more good out into the world.
It's such a beautiful idea, and I thought it was such a fitting gift for Pay It Forward. I can't wait to incorporate these ideas in my everyday life and keep track of them in this adorable little journal. Thank you so much, Kate!
I'm grateful to her for so much more than the surprise I got in the mail. I never would have heard about the link-up if she hadn't told me about it, and as soon as I learned about it, I knew I wanted to be a part of it. I love giving gifts. I truly get more excited about giving Christmas presents than receiving them. Mr. B can attest to it – I have such a hard time waiting until Christmas morning because I want to hand out the gifts I've bought the moment I get them home. Even the simple act sneaking Mr. B's favorite candy bar into his lunch box gives me a little thrill; I like making someone else's day just a little bit brighter.
It's more than gift-giving, though. When she sent me the first email, it put such a big smile on my face, and I wanted to pass that feeling along. I wanted to do something nice for someone else – to let them know someone was thinking about them and appreciating what they do – so I hopped over to Stephanie's blog to learn more about it. She suggested paying it forward to three other bloggers, so that's exactly what I did. I chose three ladies whom I've recently started interacting with and whose blogs I love. I wanted to find something for each that would make their lives just a tad easier, and this is what I found for each:
Carly, the sweet former Pennsylvanian over at The Pinot Project is in the midst of a no-spend month. Trouble is, she loves her Starbucks, so it's a real challenge for her to limit her spending on those caffeinated treats. I sent her a small Starbucks gift card to make it a little easier. Plus, as it turns out, she attended Indiana University of PA (which is really close to where I live) so I found her an IUP travel coffee mug.
Megan, the hilarious chica behind The Fussy Britches, is in the middle of redesigning her blog – a stressful and time-consuming endeavor. Sympathizing with this, and knowing her love of wine, I found her a silly little gift that is sure to save her time: a wine glass that claims to hold an entire bottle of wine. As busy as she is with blog stuff, she really can't be wasting time getting up to refill her wine glass. I can't wait to hear if it really does hold the whole bottle!
Because of mail delivery concerns, she had me send the package to her husband's office. For his help making sure Megan got her gift, I sent him a little something too. (After all, the idea was to make someone's life a little easier, not give someone more to do.) Since Matt seems to appreciate decorative upper-lip fuzz as much as his wife does, I sent him a pint glass that makes the person drinking out of it appear to have a fluffy mustache.
Samantha, the adorable lady over at It's All In The Details, is a fellow engaged girl. For her, I found a hand-painted wine glass (with little diamond rings painted all over it!) and a bottle of bubble bath. Hopefully, a glass of wine and a soak in the tub prove to be a relaxing escape from reality when the wedding stuff starts to get overwhelming.
And this, folks, is where it really gets cool: when Samantha opened her package on Sunday night, she posted a photo of it on Instagram and tagged me in it to thank me (yay! she liked it!). Her friend Emily saw the photo, and that I'd been tagged in it, and asked how we knew each other. See, Emily is not only Samantha's good friend and college roommate, but also my good friend from high school. We had no idea! And we probably wouldn't have figured it out anytime soon if it wasn't for the Pay It Forward project. What a small freakin' world. My mind is still kinda blown.
Who else participated in the Pay It Forward project? I can't wait to hear what everyone did! Has anyone else ever found a crazy real-life connection with a bloggy friend?