Happy Tuesday! Today I'm hooking up with Adriana and Katie for a Tall Tails link-up in the hopes that I can get some help from the blogging community!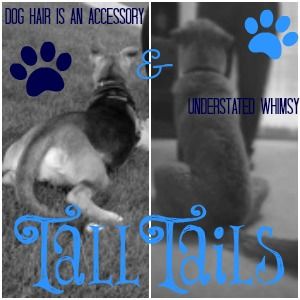 Let's start with a photo for reference, and a few pertinent facts:
Joey is a Pembroke Welsh corgi.
Corgis are working dogs known for their herding instincts.
Even though he is a stellar chocolate lab herder and an up-and-coming Chihuahua herder, Joey is not a great cow herder.
We can't even work on improving this right now because many of our cows have babies, and mama cows are mean and aggressive.
The lab and the Chihuahua are both really sick of being herded.
Joey is 8 months old. Which makes him a puppy. Which means he has puppy energy. And the ever-reliable puppy obedience.
Basically, Joey is a little asshole. He's playful, he's got a lot of energy, but to him, "playing" means herding. He herds other dogs, but he also tries to herd humans. It's annoying as hell because it means he is constantly underfoot. I trip over him all. the. time.
Disciplining him for this behavior hasn't worked. We can't seem to make him understand (or care?) that this behavior isn't acceptable. We can control it a little bit; we've managed to teach him that he can't try to herd Daisie when she's coming through the door, but we haven't been able to control it completely.
We hoped that through normal socialization with other dogs that he'd learn not to be a little jerk. Other dogs have told him in a few not-so-subtle ways that they weren't down with being nipped at, barked at, and made to go in a different direction. Daisie tells him – loudly, often, and with the hair on her back standing up – that she doesn't like this game, and one time Charlie got so annoyed he pinned Joey to the ground. And the little moron still doesn't get it. So we need to find another solution.
Personally, I buy into Cesar Milan's theory that dogs need jobs to be happy and healthy. I think that's why Joey is being such a little jerkbutt; he needs a purpose, and he needs something to direct his energy into. We need to figure out how to channel his energy into something more positive than torturing his friends and sister. It'll be good for him and everyone around him.
But, really, what can a little corgi pup do? Mr. B and I are still open to ideas, but we would like to start him in agility. Only one litttttle problem with that idea: we are totally clueless about agility. Since we live in such a rural area, there aren't any agility classes anywhere near us. According to Google, the closest such place is an hour away. Joey needs to do this regularly, so that won't work. Not a huge deal – we have plenty of space to create his own little course, but we have no idea how to teach him!
Last night, I ventured into the internetland and spent two hours with my good friends Google and YouTube trying to find some information on how to start training an agility dog. And you know what I found? A whole bunch of nothing. Ok, ok, it wasn't nothing, but it wasn't what I was looking for. I found some great resources, like Bad Dog Agility that will be very helpful once have a good foundation. Unfortunately, I can't find any information on how to establish that foundation. So here are my questions to all of you: what resources can you recommend for agility newbies? Do any of you have experience with agility? Where do we start? What are the basics? What does he need to learn before we start him on obstacles? What obstacles do we start on?
We aren't looking to participate in agility competitions or anything like that. We just need an activity to do with him to stimulate his mind and help him burn some of this crazy puppy energy. Help!