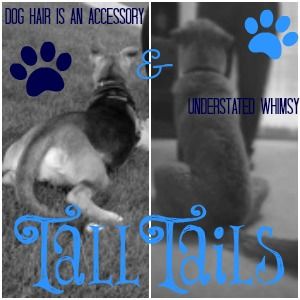 It was early evening when I finally got a chance to sit down and write today's blog post. Naturally, I couldn't come up with a thing to write about, so I decided to take the dogs for a little hike. I took my camera with me, figuring the beautiful light would give me a chance to practice playing with my fancy pants camera.
Welllll, 293 pictures later (not an exaggeration, I actually took 293 pictures on our walk) I still had no blog post ideas but I did have some lovely photos of the country in the fall.
Obviously, I also took a couple hundred photos of the dogs. Daisie took in the view,
while Joey went for a dip in a puddle.
But as I perused the pictures, I noticed a trend: Joey's tongue is all over the place.
I mean, we've noticed that his tongue is pretty long, but I never noticed how much time it spends out of his mouth.
It's everywhere.
Most of the time he looks so handsome (says the not-at-all biased dog-mom)…
…but the tongue thing…well, it makes him look like such a little dope.
Oh, well, at least he's got a cute butt.