Today I'm linking up with Mal Smiles and Never The Same Spice Twice for The Boys Behind the Blog link-up!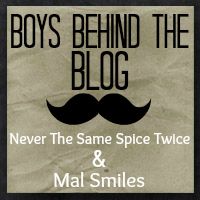 Every month they have five different questions for the man in your life to answer, so we can show off our guys and get them a little  more involved in the blogs.
Allow me to introduce my fiance, Ryan. Around here he goes by Mr. B, but in real life, he's known as Ryan.
[Mr. B's answers are in plain text, mine own words are in italics- because let's be real, I can't just keep my mouth shut.]
1. Describe yourself in 5 words.
Easy going, hard working. There, that was easy enough.
That's 4 words.
Close enough.
…AND hard working. There you go. That makes 5.
2. What is your biggest fear?
Snakes…and wolves. I don't know why but wolves freak me out.
No joke about the snakes, girls. He's my fierce and loyal protector, but homeboy won't be saving me from any snakes. He'll be running away with me.
3. What is your favorite candy?
Well…see…it could be Reese's pumpkins, Reese's peanut butter eggs, or Reese's Christmas trees.
They make Christmas trees?
Yep. They make hearts, too.
My boy loves some peanut butter and chocolate.
4. What was the best Halloween costume you've ever worn?
Probably that year we went as Pebbles and Bam-Bam. Now don't be putting this on the internet.
Really, darling? I just explained the whole link-up to you. What do you think we are doing this for?
5. Who is your favorite football team?
Probably Steelers, huh?
He doesn't really follow football, so he phrased this as a question- as if he was asking me if this was the correct answer. (It is.)
After answering these questions, Mr. B (jokingly?) said he was passing the baton to Joey, as he is not sure he wants to be "Boy Behind the Blog" if I am going to put embarrassing photos of him on the internet. So next month, I may be interviewing a Corgi. We'll see, I guess.
Thanks babe for being such a good sport about this post and for supporting me with this whole blogging thing. I love you!